About Us
|
Academics
|
Research
|
Faculty
|
Administration
Division of Maternal Fetal Medicine Fellowship Program
The Maternal Fetal Medicine Fellowship Program at UC Irvine Medical Center is a three-year fellowship program, which includes a 12-month period of research investigation, 18 months of clinical rotations and six months of electives, as described by the Division of Maternal Fetal Medicine of the American Board of Obstetrics and Gynecology.
Fellowship program components
Direct patient care
Clinical research
Basic research
Teaching activities
Conferences and meetings
Graduate level courses
Statistics
Epidemiology
Research methodology
Genetics/molecular biology
Physiology
Design and analysis of clinical trials
Ethics in clinical research
How to apply
Interested physicians are encouraged to apply for fellowship positions through the Association of American Medical Colleges (AAMC) ERAS Program website ›
All of the following required documents must be received through ERAS to be considered for an interview:
A completed application
Medical School Transcript
MSPE
At least three letters of recommendation
Personal statement
Photo
USMLE
An interview will be necessary for consideration. Do not send official transcripts, CREOG scores, or any other additional documents via email.
We will begin accepting applications for fellowship positions on December 1st.
There will be two interview sessions: Two Dates in July and August 2022 TBD. Please check back for updates.
All applications must be received by DATE TBD. Our program will adhere to the common program dates set forth by SMFM.
Fellowship program director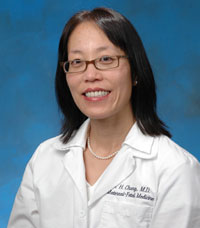 Judy Chung, MD, PhD
Professor
Fellowship Program Director
Maternal Fetal Medicine Fellowship Program
Dr. Judith Chung is a professor of clinical obstetrics and gynecology. She is board-certified in obstetrics and gynecology and in the subspecialty of maternal fetal medicine. Her research focus is in clinical research design and execution, which led her to pursue additional training in health services research and epidemiology.
Contact us

Katie Bacca
Fellowship Coordinator
UC Irvine Medical Center
Department of Obstetrics & Gynecology
Phone: 714-456-6807
kbacca@uci.edu