Academics
|
Research
|
Faculty
|
Administration
Division of Gynecologic Oncology Faculty
Krishnansu S. Tewari, MD, FACOG, FACS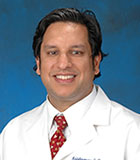 Professor
Division Director, Division of Gynecologic Oncology
Dr. Krishnansu Tewari's clinical interests are in the areas of women's health, cancer vaccines and drug discovery for the treatment of gynecologic cancers. His clinical expertise allows him to perform a full array of operative procedures, including advanced da Vinci® robotic surgery, complex laparoscopic surgery, radical pelvic operations and intestinal, urological and fertility-preserving procedures. He is recognized for vaginal reconstruction and other restorative operations.
Tewari is the principal investigator for the Gynecologic Oncology Group's first randomized trial of anti-angiogenesis drugs for cervical cancer. He is also conducting several ovarian cancer clinical trials at UC Irvine Chao Family Comprehensive Cancer Center.
Tewari's research has been funded through grants from the Chao Family Comprehensive Cancer Center and the Gynecologic Oncology Group. He has written numerous book chapters and scientific articles for medical journals, and is also credited for advancing issues surrounding the conduct of cancer in pregnancy for the well-being of both the mother and unborn child. Tewari is President of the Orange County OB-GYN Society.
Education
UC Berkeley, 1990 — BS, molecular biology
UC Irvine, 1994 — MD
UC Irvine, 1998 — Residency, obstetrics and gynecology
UC Irvine, 2002 — Fellowship, gynecologic oncology
Robert E. Bristow, MD, MBA, FACS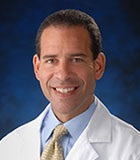 Professor
Chair, Department of Obstetrics & Gynecology
Dr. Robert Bristow's clinical expertise includes the surgical management of advanced gynecological cancer, including ovarian, fallopian tube and primary peritoneal cancers.
In addition to the full range of complex surgical procedures, Bristow is also experienced in delivering hyperthermic intraperitoneal chemotherapy (HIPEC) in conjunction with debulking operations. Bristow is also an experienced minimally invasive surgeon with special expertise in robotic hysterectomy and surgical staging for endometrial cancer and cervical cancer.
Education
Pomona College, 1987 — BA, psychology
University of Southern California, 1991 — MD
Johns Hopkins Hospital, 1995 — Residency, obstetrics and gynecology
Cedars-Sinai Medical Center, 1998 — Fellowship, gynecologic oncology
Johns Hopkins University School of Business, 2009 — MBA
Fabio Cappuccini, MD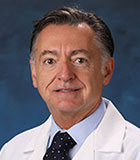 Clinical Professor
Dr. Fabio Cappuccini is a board-certified UCI Health gynecologic oncologist who specializes in the surgical treatment of all gynecological cancers. He is skilled in microinvasive and robot-assisted surgical procedures for early stage endometrial, cervical and ovarian cancers. He also has a particular interest in the research and treatment of ovarian cancer.
Cappuccini is a pioneer in immunotherapy research targeting ovarian cancer and cervical cancer treatment pathways. He also is experienced at debulking surgery to remove all visible signs of ovarian cancer in the upper abdomen.
Education
University of Bologna School of Medicine and Surgery, 1985 - Undergraduate and Graduate Doctor of Medicine
University of Bologna, 1990 - Residency, obstetrics and gynecology&
UC Irvine, 1998 — Residency, obstetrics and gynecology
UC Irvine, 2002 — Fellowship, gynecologic oncology
Jill Tseng, MD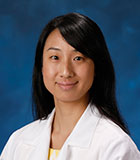 Assistant Clinical Professor
Education
UC Berkeley, 2003 - molecular and cell biology
University of Toledo College of Medicine, 2010 - MD
The Johns Hopkins Hospital, 2014 — Residency, obstetrics and gynecology
Memorial Sloan Kettering Cancer Center, 2018 — Fellowship, gynecologic oncology